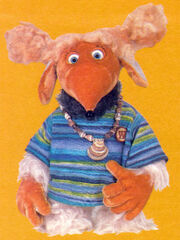 Alderney is a distant relative of
Great Uncle Bulgaria
. She's a lively, adventurous young womble with a profound sense of curiosity of the world around her; she loves nothing more than to find and try to do new things. She is the rhythm guitarist and backup singer for novelty pop band, The Wombles.
Alderney is strong-willed and doesn't take "no" for an answer. She's an agent for change and she tends to challenge the old womble way of doing things. Because her head is filled with so many ideas, she frequently goes off in tangents, sometimes in mid-conversation, sometimes while she's in the midst of doing something else.
As a result of the many experiences she's had, Alderney tends to have a unique way of doing things and dares to be different. The best example of this is the fact that she lives in a treehouse on the Common - wombles are typically burrow dwelling creatures.
Alderney's particular concern is water pollution. She chose the spot for her treehouse because of its proximity to Queen's Mere. She likes to be able to keep an eye on things there.
Alderney takes great pride in her efforts in the kitchen, but as far as the others are concerned, she has got a lot to learn! She's a bit of a helath food nut and will concoct odd recipes which never tend to go over very well. Madame Cholet tries to advance Alderney's culinary abilities, but it's usually impossible to keep her attention long, before she's off in another direction.
Alderney and lead guitarist Wellington are frequently found paired together as guitarists, which is interesting since they couldn't be more opposite: Alderney is affable and outgoing, Wellington is shy and lacks social confidence; Alderney is generally off in a million directions at once, Wellington is obsessive and very focused. But their differences could be what appeals to them. She has been dubbed by the press as the "Girl Power" womble. Alderney is a very good womcopter pilot!
She wears a blue and green stripey T-shirt and a shell necklace. She is named after one of the Channel Islands.
Alderney was one of the original wombles, but only joined the television series in season 3.